April 24th, 2014 marked one year since the Rana Plaza clothing factory complex collapsed in Bangladesh, killing at least 1,134 people. This was not the first tragedy to strike the fashion industry. Factory fires and other disasters all throughout the world have killed thousands of people for hundreds of years. In stark contrast to the beauty that the industry hopes to sell, terrible conditions along the supply chain have degraded people and the environment.
In memory of the Rana Plaza tragedy and the other horrors that have struck people working in the fashion industry, their families and their loved ones, we are the fashion revolution. We includes a number of people - the.or team, students and participants in the.or programs and projects, the people making clothes around the world, the people behind FashionRevolution.org and most importantly YOU!
There are many ways YOU can get involved.
Be Curious. Wear your clothes inside out so that the tags are visibile. Reasearch the company on your clothing labels and learn about the countries where your clothes were made.
Find out. Keep exploring the rest of this page with content created by the.or program participants to find out more about why this revolution is taking place. Learn what 'made' really means. Share this knowledge with your friends and family.
Take Action. Raise your voice in gratitude for the people involved in making your clothes. Use the form below to share about your clothes and ask who made them. We will broadcast the messages submitted on this page so that together our voices are heard widely.
My SustainU tee was designed my students at my school and made in the USA but who sewed it? #FashRev #WhoMadeMyClothes
What does made mean?
What do you know about your clothes? Perhaps more importantly, what do you not know? In the photo above Collectofus Global leaders in Accra, Ghana map what they know and what they don't know about the t-shirts that they study throughout our program. Students realized that while a tag might say 'Made in China," if we don't know anything about China then this information means very little. Likewise, if a t-shirt is made of cotton, but we don't know about the cotton industry, then what do we really know about how our t-shirt was made? YOU can consider these questions too as we explore the meaning of 'made.'
#
https://theor.org/frd-2014#archive-1
Look at the tags on the clothes you are wearing right now. See where it says "Made in ___?" What does "Made in ___" actually tell us? For almost all of the tags on almost all of your clothes "Made in ___" indicates the country one step removed from the point of sale. This means that if a t-shirt has cotton from India that is spun and dyed in China and then sewn in Sri Lanka, the label will most likely say "Made in Sri Lanka." But this is not the whole story. The fashion industry is deeply interconnected around the globe and it has been since before it spawned the Industrial Revolution. One way to see the global flow of clothing and where YOU fit in is to complete an "audit" of your closet. Our students did just that and here are the results:
Above is what students observed of their own closets in Ghana. The students found it interesting that only a small percentage of their clothes was made in the US and none of their clothes was made in Europe. This fact challenged students' assumptions about how their clothing is made because they know that most of the clothing they buy at the local markets is donated from the United States and Europe. Students wonder if this means that most of their clothing was first donated to the United States and Europe from people in China and India? 
#
https://theor.org/frd-2014#archive-2
Interestingly the students in the Washington, DC (results above) had nearly the exact same percentages of shirts from China and the USA as their peers had in Accra, Ghana. Even though only 6.6% of the clothes "audited" were "Made in the USA" roughly 86% of the brands with logos on the labels have their headquarters within the borders of the United States. If YOU conduct an "audit" of your own closet you might too be surprised by what you find. You might ask things like why is cotton grown in the USA and then sent to Bangladesh? What is the relationship between "Made in ___" and the price of an item? Who is involved in transforming cotton from a plant into a textile?
#
https://theor.org/frd-2014#archive-3
Students in both Accra and DC delve into these questions by studying their shared history of the cotton industry and its global roots. To understand the industrial process today they look at its origins over two hundred years ago at the start of the Industrial Revolution. Students hand gin cotton in order to understand the manual labor that machinery was intended to replace. Unfortunately, as one student reflects below, inventions can have both positive and negative impacts.
When we hand-ginned cotton I realized it was really hard and I was surprised at how much time it would take. I was impressed someone was able to gin cotton in the sun day after day as their life's work. We talked about the ginning machine and how it had a negative impact on slavery because they were ginning cotton faster which meant more people had to go out and pick cotton. In class, we discussed how almost any invention can have a negative effect on someone. For example, we have light bulbs in all houses, but for a candle maker, it makes it a hardship to sell candles because we depend on electricity – except when the electricity is cut and we use candles.
-Jeremy, 6th Grade
#
https://theor.org/frd-2014#archive-4
Sheryl makes thread from her hand-ginned cotton.
#
https://theor.org/frd-2014#archive-5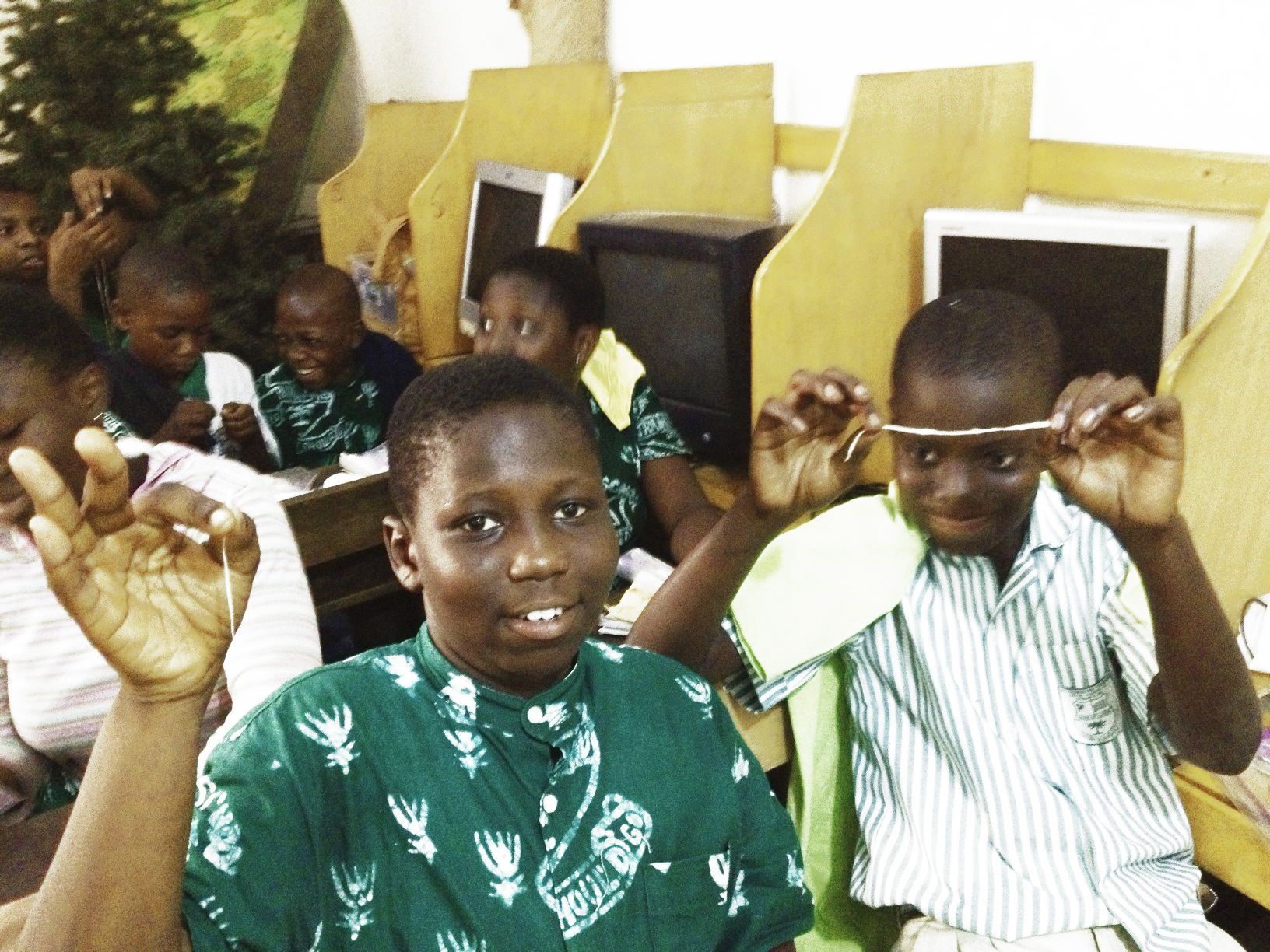 Emmanuel and Kelvin show off their hard work after turning cotton bolls into thread. At a fast pace it takes about 10 minutes to hand gin one boll of cotton. It takes about 60 bolls or roughly half a pound to make one t-shirt. That's 10 hours of ginning cotton. After 1793 this process was done mostly by machines that could gin the same amount of cotton in just 12 minutes.
#
https://theor.org/frd-2014#archive-6
All of the remaining cotton seeds from students' exploration didn't go to waste. Students in Ghana planted the seeds in used water sachets before transferring them into the ground at St. Thomas International School.
Laurence and Perry quickly found out that cotton needs a lot of water to grow. According to the Natural Resources Defense Council, it takes anywhere from 700 to 2,000 gallons of water to produce enough cotton for one t-shirt. In addition, "conventional" cotton is one of the most chemically dependent crops using 16% of all insecticides in use for global food and fiber production. While these statistics might seem staggering, we know that cotton can thrive in climates like Ghana's. So we gave it a try. Unfortunately with a water shortage in Accra and less than ideal soil conditions on the school campus, Laurence and Perry's cotton plant didn't do so well. Students learned that Ghana's annual cotton crop accounts for less than 1% of West and Central African cotton production because humans cannot eat it, it is labor intensive (especially at harvest time) and farmers have to compete with low international cotton prices. Considering all of the resources used in cotton production, the students wondered why cotton prices are so low? 
#
https://theor.org/frd-2014#archive-7
How do my clothes get their color? We've observed that this is often a forgotten step in the process. Students quickly assume that synthetic dyes like the kind they can buy from an art store have been around for a long time and that the process to change a shirt from white to red is simple. With so many bright colors on the rack at the store it most be true. But in fact, dyeing textiles can be a complicated and harmful process. It hasn't always been this way. Synthetic dyes, many of which are toxic to both humans and the environment, are a relatively recent innovation in the fashion industry. The first synthetic dye was invented in 1856. But prior to that life wasn't monotone. Students learn that natural dyes (like those used to make the swatches below) have produced wonderful colors for centuries.
#
https://theor.org/frd-2014#archive-8
 We make dyes out of food that would otherwise be thrown away. While producing synthetic dyes take a complex chemical knowledge and laboratory, students on both sides of the Atlantic create the natural dyes that they use in their art projects and object exchange with simple cooking supplies.
#
https://theor.org/frd-2014#archive-9
Over the past two years we've made more than 100 colors from the scraps of meal preparation at Sidwell Friends School, St. Thomas International School, SweetGreens and Martha's Table. The only costs were the water, the gas to heat the water and alum for a mordant. These dyes are entirely non-toxic to the wearer and the creator. (But as the students know, they can smell after a while if left outside...a small price to pay for the experience of making your own colors.) The remaining food can still be composted. How easy was that!
#
https://theor.org/frd-2014#archive-11
Sew...what about those seams?
This is Margaret Anang. I (Joshua) bump into her changing a zip of a little girl's school uniform. She has been sewing for a long time and only makes alterations on dresses, patches torn dresses, trousers, shirts, shorts. etc. Margaret doesn't have a shop so she carries the sewing machine around with her as well as her scissors and the rest of her tools. We couldn't talk much because she was busy.
#
https://theor.org/frd-2014#archive-12
We feel fortunate to see seamstresses working on nearly every block when we go for a walk near St. Thomas International School in Accra. We know that despite it's good climate, Ghana doesn't have a large cotton crop, so it's unclear where most of the fabric originates. Some is from China. Some is from neighboring African countries. Either way, the men and women who turn the yards of fabric into school uniforms and outfits for formal occasions do a great job. Joshua and our students in Ghana interviewed some of them so YOU can meet them!
This is Lydia Korkor Ayie. She says "I've always dreamt of being a dressmaker. When I was young I used to go around picking up piece fabrics, joining them together to make dresses. Dresses that are so small that not even a baby can wear, but it make me happy that at least i have created something out of nothing. So after completing JHS, I decided not to go to SHS but rather divert into sewing so I had to be an apprentice for some years till I graduated. Though it wasn't easy I can say that sewing is my talent and nothing makes me more happy than sewing in my own way, with my own style, and at my own time.
What I like about my job is that nobody forces me to do what I can't do or what I don't wanna do.  So to me it's just like having fun and earning an income at the same time. I like it when I see people appreciate things that I made. It seems like a motivation to me. I also like it when I am working with someone, that way we share ideas and work faster, it even helps me solve problems faster than being alone thinking about how to get one thing right. What I don't like about my job is when you have so much to do and you get stuck on one thing, it slows me down so I have to leave that and start a different one or sometimes I have to be trying over and over again until I get it right and its more of a challenge than having fun.  I also dislike it when people take our work for granted -  they will tell you what to do and after you are done with it they never show up to pick them up leaving the whole place crowded and sometimes they pay half and leave the rest. Others too don't pay at all and it makes it difficult to trust customer."
#
https://theor.org/frd-2014#archive-13
This is Ireen Adelaide Asheley Armah. We asked, why did you choose to be a seamstress?
"I come from a family where by my father is not supportive enough to help my mum take good care of us. After some few years in school my mum couldn't afford to pay my fees so I had to drop out when I was in class three. And after some years of helping my mum sell vegetables and other stuffs at the market, I raised some money with the help of my boyfriend to go learn how to sew since it is also a good way of living and improving upon one's talent. I had no choice than to accept the offer and now am ok with what I am today."
What do you like and dislike about your job as a seamstress?
"I like my job because I love the fact that there's always an opportunity to learn something new and I always take advantage of those opportunities. My dislike is about my lack of more refine clients, sometimes I don't get enough to make up good value for my work and it becomes difficult for me to think straight and to meet my needs and the needs of other people."
#
https://theor.org/frd-2014#archive-14
Do YOU value the skills of these seamstresses? TRY your hand at sewing.
Jeremy is a natural. Seriously, he owns that machine!
#
https://theor.org/frd-2014#archive-15
#
https://theor.org/frd-2014#archive-16
Let's also consider where we shop.
This is Kantamanto, part of Makola Market in central Accra. Here people can buy western style clothing that has been donated by people in other countries (primarily the USA and Europe). Prices range from 25 cents to 25 dollars, but most of the things that students buy (t-shirts and jeans) cost between $1 and $5. How would the Ghana closet audit statistics be different if students didn't have to wear school uniforms? How would the statistics be different if Kantamanto sold donated fabric instead of donated clothing?
#
https://theor.org/frd-2014#archive-17
Students in DC have the opportunity to shop for school apparel at the Fox Den where items range from $8 to $60.99 year round. In the Fall students have the opportunity to give garments a second life by shopping at the Next to New Sale. Some thought provoking trends were revealed in the data students collected during the audits of these two "stores."
#
https://theor.org/frd-2014#archive-18
#
https://theor.org/frd-2014#archive-19
"Everybody was excited to be wearing a traditional dress today. I wish we will be wearing it to school everyday."
#
https://theor.org/frd-2014#archive-20
What I am wearing is called joromi. -Daniel
#
https://theor.org/frd-2014#archive-21
If you LOOK closely you will see many different styles.
#
https://theor.org/frd-2014#archive-22
Did you know YOUR CLOTHES could outlive YOU? American households throw away an average of 65 lbs of textiles every year, but we all know there is no "away." The reality is that many of the chemicals used in the production process of our clothing prevent our old garments from biodegrading (even the cotton ones). Students in DC "audited" the Lost and Found on campus. While the unclaimed items won't be thrown in the trash at the end of the year, they are likely to disappear without much care.
While completing this final "audit" students decided it is safe to say that we have too many clothes and that a lot of the clothing we wear is easily replaced and forgotten because the fashion trends only appear to change when really everything is very similar.
#
https://theor.org/frd-2014#archive-23
For our Minimakers project students transform these stained and torn items that had been donated to Martha's Outfitters into a beautiful new collection with the hope that the future owner will never want to give these clothes away again. Students consider the message we send as a society when we pass on our unwanted things to other people in such an undignified condition.
#
https://theor.org/frd-2014#archive-24
Find out more about this transformation at minimakers.org.
#
https://theor.org/frd-2014#archive-25
Two days before Fashion Revolution Day students in DC quizzed and surveyed over 80 of their peers. The results of this survey will guide the students through their final project for the year.
The results from Part One are in!
Number of Items: 83 shirts
Number of Countries Listed on Tags: 21
Most Common "Made in ___" Countries: China : 22.9%, Vietnam : 10.8%, Haiti and Honduras: 7.2%, Mexico : 6%, Bangladesh, El Salvador, India and Indonesia : 3.6%
Most Common Companies: Nike, Abercrombie, Gildan, GAP, J.Crew and Old Navy
Fabric Content: 78% cotton + 1% organic cotton
...Part Two results coming soon.
#
https://theor.org/frd-2014#archive-26
On Fashion Revolution Day Joshua and students in Ghana will walk around their neighborhoods with cotton bolls, quizzes on the global and local garment industry and this survey.
Results will be posted next week!
#
https://theor.org/frd-2014#archive-27
How do YOU define made? THINK about it for a while. Be specific. It's fascinating. Even with all of these ways of making clothes, we still ask ourselves, are we part of an "ordinary" story? What are WE -- what are YOU -- what am I -- doing to make the extraordinary, ordinary?
NPR's Planet Money Team produced a story following a t-shirt they commissioned from Jockey. The Planet Money team refers to their t-shirt as "ordinary" in the introduction to its story. The students were struck by this - how could something so complex be ordinary? Students on both sides of the Atlantic recognize that the clothing they have been documenting in their audits tells the same story as the Planet Money t-shirt….we have all played a role in forming the definition of ordinary when it comes to the clothing we wear in the US But how long has his been the case? According to Elizabeth Cline, author of Overdressed: The Shockingly High Cost of Fashion, only 2% of the clothing Americans buy is made in the US. But as recently as 1990, 50% of our clothing was made in the US.  This fact alone is evidence that "ordinary" can be changed. What has changed since a year ago, April 24th?
#
https://theor.org/frd-2014#archive-28
#
https://theor.org/frd-2014#archive-31
#
https://theor.org/frd-2014#archive-38
Raise your voice in gratitude.
What can we do with everything we've learned?
#
https://theor.org/frd-2014#archive-32
In 2011 during one of the early conversations that we shared in class, students were shouting that we should burn all of the t-shirts made with child labor because they hated the thought of children their own age working in cotton fields instead of going to school. They had read several disturbing articles and felt a strong sense of anger. Soon they came to see that the issue was more nuanced. Yes, anger and sadness are important emotions. And we will all be angry and deeply saddened about the tragedies that occur on our watch. But are anger and sadness a solid foundation for wholesome change? After all, we don't want to make things less bad. We want to make things most good. By the end of the conversation several years ago,  students were making plans for how to express their gratitude. They wanted to thank the people involved in making their clothes by spreading the knowledge that they had gained to their peers abroad and within their communities at home. The students knew that their new perspectives on the choices people face every day, or the lack of choices, will guide how they and their peers spend their money and their lives.  "We should write them a letter instead," on student exclaimed! To say thank you for making our clothes. To say we know you exist. To say that we care. And to hold ourselves accountable for making our choices count.
#
https://theor.org/frd-2014#archive-33
Ginning cotton was hard work without it being forced and without the sun beating down on me. Sitting in the classroom, picking the seeds out of the cotton I thought about how lucky I was to be sitting there getting an amazing education in an air conditioned room. Obviously my teachers weren't forcing me to gin the cotton although they wouldn't like it if I refused, and it wasn't something I didn't want to do. I thought of all of the grueling labor people went through to produce the t-shirt on my back. Although they didn't have to pick out the seeds by hand, they had to do so much more. The ginning of the cotton is just one step in the process, and yet I sat there trying to pick out the seeds in a small ball of cotton which was so insignificant compared with everything everyone did to produce my shirt.
-Elizabeth, 6th Grade
#
https://theor.org/frd-2014#archive-34
I think the Triangle Shirtwaist Factory was a tragic event that could have been avoided. The immigrant workers were subjected to awful and dangerous conditions just to earn the money to feed a family. I think the non-immigrant people living in New York at the time did not realize the conditions that their neighbors were working in. I think that it was unnecessary of the bosses to lock the doors, like they said; because they thought the workers would escape, because there were not that many jobs available, and no one wants their family to starve. Also, hearing about the Tazreen Factory Fire, it made me think that even though we are 101 years in the future from when the Triangle Shirtwaist Factory caught fire, The Tazreen disaster was in 2012, and it was the same exact thing. 
-Jean, 6th Grade
#
https://theor.org/frd-2014#archive-35
This year my class learned about many incidents in the fashion industry. Many factories are located in third world countries because the people in those countries many times need money so they take a job. One of the incidents we learned about was the Rana Plaza collapse. The Rana Plaza collapse was when a large factory fell apart and crumbled in Bangladesh. In 2013 Rana Plaza collapsed and killed 1,129 people. The day before the collapse people noticed that the building had many cracks on it but the workers were still sent to work the next day. I think it is crazy that people knew that the building and the people inside was in danger yet the workers were still sent to work. This is one of many problems and incidents in the fashion industry; as a matter of fact a similar factory incident happened 100 years before in New York. The incident in New York in the Triangle Shirtwaiste Factory because there was a fire in the building and all of the exits where blocked off.
-Lance, 6th Grade
#
https://theor.org/frd-2014#archive-36
After reading this article and seeing the video of a nine-year-old apparel worker, I was shocked. A nine-year-old working for her family to have enough to eat? It didn't seem right. A nine-year-old should be in school, working hard to grow up to be a very educated person. Instead of that Meem is working eight hours a day, sitting on the hot, dirty floor, only to get a small wage of thirty-six dollars a month?! A kid can make more money than that by selling lemonade of the street for an hour or so. Many children's dreams are to maybe a pilot, an astronaut, maybe a fire fighter. Meem's dream is to stop working as a thread trimmer, to become a seamstress. Basically, to get off the ground, and to work at a table.
-Emma, 6th Grade
#
https://theor.org/frd-2014#archive-37
I found this story very interesting. I was surprised that someone as young as 9 was working in the clothing industry. Meem did not complain about working long hours everyday on the floor. Meem worked as a cutter from 9 am to 9 pm and only got a 1 hour break for lunch. Now when I complain, I feel stupid because usually when I complain it is about something that is not that important. What Meem was doing is very hard and I definitely would've been complaining. Reading this article showed me how fortunate I am.
-Charlotte, 6th Grade
#
https://theor.org/frd-2014#archive-47
Upon first reading this article, I was very surprised. I had no idea that clothing factories were like this. My surprise turned to shock, as the workers, locked inside, could do nothing as the fire approached. It seemed impossible. Many people were killed. The elevator could have saved the lives of many, but no! It had to go to the top floor to get the bosses first. I was astonished. Innocent people, being forced to jump from the window or be killed in a fiery explosion. It is not a fate I would wish on the most terrible of criminals, let alone girls as young as 12. It was inhumane. A while later I read about the Rana Plaza disaster, which stunned me even more. I thought that the only people in a clothing factory were a couple of operators, hunched over computer terminals, to ensure that all the automated sewing machines were working properly. It has been 100 years since the Triangle Shirtwaist disaster and working conditions still have not much improved. This is unacceptable. Defend the rights of these people. Join the Fashion Revolution on April 24th. We must end the madness.
-Henry, 6th Grade
#
https://theor.org/frd-2014#archive-49
After doing their own investigation into the companies that made their t-shirts, students processed their reactions in the form of a letter to the CEO of each company. YOU can read a selection of these letters below. And YOU can write your own!
Dear Ms. Elfers,
It's very important to me that the people who made my clothing are treated well. I don't want to buy a shirt if that shirt was made by someone who was not paid a living wage. My class is learning about the clothing industry, from where the cotton is grown to how much companies sell the finished product to customers for. I love The Children's Place, but I have concerns about how you treat your workers. I think it would be good for your company and your customers if you talked about how you treat your workers on your website. I have a few questions that you could include answers to on your website about how you treat your employees:
Are they happy? Are you sure that they are happy? How can you make them even happier? Do they (factory owners) treat their workers well at the factories? How do you know? Can you look into it and make sure? How do your workers feel about how they are treated? How the employees feel greatly changes how good the clothing comes out.
How much do you pay your employees across the supply chain? Do you think this is how much they honestly earn? Do they agree? Big companies like GAP are beginning to raise their minimum wage in the USA. Are you planning on doing this soon? Why or why not? Also, where do you get your materials from?
How were you connected to the disaster in Bangladesh (I read that your company was among the clothes found there) and what are you doing to ensure that such a tragedy doesn't happen again? I have looked on your website and found almost nothing about worker treatment. If you added a whole 'Worker Treatment' section, along with worker reviews, I know of a lot of people who would be much more comfortable buying clothing from you. If you already treat your workers really well it can't hurt to let the world know. If you need to grow a little in that area, write what you're working on and how you're trying to improve your worker treatment. Just add something that shows that you care. I'm not saying you treat your workers badly. I'm just saying that people are becoming more and more aware of how badly many garment factory workers are treated. Clothing companies have to keep up by putting their customer's minds to rest at these matters. You should inform people that you do the right thing, and make sure it is true. Don't just say "We won't knowingly…" Make sure that you and people you are with do the right thing. Go to the factories you get your cloth from and check that they are treating their workers right. Take responsibility for your actions, and then improve. Make the world a better place.
Sincerely,
Mia
#
https://theor.org/frd-2014#archive-39
Dear Mr. Medlin,
I am really impressed by the way you are running your company it terms of workers' rights and environmental policy. First, I congratulate you on winning the EPA Climate Leadership Award this year. This is amazing to finally find a clothing company that cares about its impact on the environment. Protecting the environment means a lot to me. Clearly, it means a lot to you as well. I have heard about many companies that pour toxic waste into rivers without care. To see that Fruit of the Loom is trying to save the environment shows a lot about the character of your company. While it seems you have made good advancement in this area, I think there are some other ways you can improve as well.
To start, it would make a huge difference if Fruit of the Loom used organic fabrics. You could start with 10% of your fabrics being organic and then make it all the way up to 25% of your fabrics being organic by 2024. One more thing that would show people how committed you are to the environment is to reduce the amount of chemicals in your wet process. I know that Fruit of the Loom has started to reduce the chemicals in that process but you could try to reduce it even further.
I am really impressed not only by your commitment to saving the earth but also caring for the people on the earth. I commend you on signing the Bangladesh safety accord, which allows your company's employees to have a safe and comfortable working area. After the Rana Plaza factory disaster this has really meant a lot to me.
I also appreciate that your company has a very thorough and exceptional Code of Conduct that clearly states that there is no forced labor or child labor, and that there is a maximum workweek of 48 hours and overtime of 12 hours. One thing I would like to know more about is who your suppliers are and what are the working conditions in those companies? How do you encourage those companies to be environmentally conscious and care for their workers' rights?
I have heard of many large clothing companies that do not care about the environment or about workers' rights. Fruit of the Loom can be the role model for these big companies and can show these companies that money is not everything. By doing this you can make your company even greater, and have companies follow in your footsteps. Other companies will also try harder to help the earth and make their factories better places for their workers. If Fruit of the Loom really tried and pushed and did everything it could do to become a role model. You have the resources, the power, and the will. You could change the whole clothing industry.
Sincerely,
Zayd
#
https://theor.org/frd-2014#archive-40
Dear Mr. Chouinard,
I really like Comfort Colors t-shirts but I want to make sure you are putting out a product that I can buy without making the world a worse place. I have been learning about the garment industry in school. From the Triangle Shirtwaist factory fire in 1911 to the fires in the past few years in Bangladesh - workers have been treated less than human, like slaves under another name.
I have looked at your website and blog but haven't found anything about your workers or factories. I feel that if you put more information out about the working conditions people like me would feel better about purchasing your product.
The t-shirt process obviously doesn't start in the factory, it starts in the cotton field. I think it's great that most of the cotton is locally grown in the USA but just because it was grown here doesn't mean the cloth was made here or that it was sewn here. You could be shipping the cotton off to other countries so that you can get cheaper labor. Do you ship your cotton to other countries? Do you pay minimum wage? Do your workers feel safe, how do you know? How many entrances and exits are available to them? Are the doors locked while they work or are they free to leave if there's an emergency? I want to know more about how my t-shirt was made, it would make my experience wearing it feel more honest and personal.
I know you have a wastewater treatment plant and I'm very glad that you are being responsible about cleaning the water. I still want to know if you use any dangerous chemicals that could be leaking into the environment around you in another way - either through the air or the ground. Are you sure that you aren't creating pollution through the process of making the t-shirt? Are the dyes you use dangerous to anyone or anything?
I really appreciate the clothing you sell and the time you take to read my letter. This means so much to me and it would make me so happy to hear back from you.
Sincerely,
Elizabeth
#
https://theor.org/frd-2014#archive-41
Dear Mr. Uli Becker,
Hello, I am writing this letter to ask you about the safety standards and working conditions of your factories. Reebok is one of my favorite apparel companies so when this project arose at school I picked a shirt from you and then we looked harder into how this shirt was made. We looked into how the factories workers are treated and the many factories questionable safety standards.
Safety standards and how companies treat their employees is a topic that can be hard to understand without firsthand evidence so I would like to ask a few questions that can clarify whether safety standards and respect for your employees are met at your factories. When it comes to your company, reports send mixed messages.The questions I would like to ask are:
- Are fire escapes or any exist labeled carefully?
- Are employees locked within factories during working hours?
- Do toxic fumes exist in the air?
- Are workers treated with respect?
- Could the working conditions get better? What are the conditions like within the factory?
- Are the sewing machines dangerous?
- How would you feel if you had to work there (in one of your garment factories)?
Why do I care so much? The answer is simply that every human deserves the chance and opportunity to be successful.  In factories where safety standards decline and employees are treated with little respect; it is hard to prosper and live a happy life.
I understand why companies might treat their workers this way and have them operate under harsh safety standards. I understand your company and many companies like your's need to make profit. I think that If you were to fix up your safety standards you could make more profit than ever. If people were to hear about how you treat your workers so well it would bring many customers - hearing about your good reputation. It is a win-win situation. You brighten the lives of the hundreds of people working for you and you can increase your profit. Other companies may even follow in your footsteps.
I hope you consider the points in this letter and benefit from them.
I would really appreciate a response,
Dylan
#
https://theor.org/frd-2014#archive-42
Dear Mr. Chamandy,
I would appreciate it if you would please take a few minutes of your time to help me with a school project. The students in my class are writing to the company that made our t-shirts about how they were made and mine has a Gildan label in it. I have a few questions about your environmental and labor policies:
What are your environmental policies? On your website, you have your Environmental Code of Practice. It says, "The ECP has multiple benefits: It guarantees our customers that their products are clean and safe for use, it ensures safe working conditions for our employees, and it minimizes our environmental impact." I am very glad of that, but I am curious about the last part. The ECP says that it minimizes your impact but what does that mean? Do all of your factories comply with this? Do you use dyes that pollute and harm the environment?
You might be wondering why this matters to me. It matters to me because we only have one planet that is suitable for life, and we can't trash it. We must protect our valuable resources so that future generations will have a clean planet like they deserve. Also, I would feel more comfortable wearing a Gildan t-shirt that I know was made with good policies, and I am sure many people would feel the same way.
I also have a few questions about your labor policies. I read on your website that you are FLA certified for fair labor. I read on another website, www.flawatch.usas.org,  that your company fired dozens of workers from a factory in Honduras for attempting to unionize, and that this is unlawful. That does not seem like fair labor to me, so I have a few questions: What are your policies? Are they fair and would your workers agree? I would feel guilty wearing a t-shirt that was made by people whose rights have been violated.
Thank you very much for your time and energy. I hope you will think seriously about these questions and please get back to me.
Sincerely,
Jean
#
https://theor.org/frd-2014#archive-43
Dear Mr. Marty Lott,
One of the highlights of my summer is when my overnight camp gives me a t-shirt with the camp name on it. I am doing a project in school where I need a t- shirt so I chose my camp t-shirt to research. It was made by your company, C Port Authority. I came to your site and based on my reading you either own C Port Authority clothing or some of the suppliers.
When I was on the 'supply chain and disclosure' page I was impressed. I was impressed because it looks to me that you have addressed problems that other companies face or have faced in the past such as child labor or unfair wages. If I was wearing a t-shirt that I knew was made by someone who was being forced to make it I would feel obligated not to buy from that company again but if I already owned it I would feel obligated to wear the shirt often.
My shirt was made in Haiti. According to the Global Slavery Index Haiti is one of the most populated countries for slaves so I am interested in how you manage your factories in this environment. Do you know if the place that my shirt was made in has good working conditions and if the people are treated fairly?
I hope you take this letter into consideration and write back.
Sincerly,
Jeremy
#
https://theor.org/frd-2014#archive-44
Dear Mr. Glenn J. Chamandy,
It has come to my attention that your company Gildan does not always treat the environment or workers with respect. I know that you are a very busy man and you don't have the time to check the working conditions of every one of you employees but please realize that this job is everything to most of these people. Think about what your employees could afford with their often less-than-minimum wage pay rate.
The world is like a big house that we all live in. We rely on it for shelter and food. But just like any other house we need to do chores and clean up after ourselves. If we do not do these things our house becomes dirty and unorganized. If your factories do not comply with safety standards in that country then life in our big house becomes harder and less desirable. Please remember that we are all neighbors in this house and we need to work together if we want our house to be clean.
Create your own path as the man who spared the extra two dollars an hour that changed their (garment workers) lives . You have the power to make 32,000 people's lives more desirable and enjoyable.
Please do not look at this letter and throw it away, look at it and see the future.
Sincerely,
Hugo
#
https://theor.org/frd-2014#archive-45
If we want to end something that is wrong, let's spend time celebrating the things that are right. We are particularly grateful for the many clothing companies who are working hard to change the "ordinary." As students are studying and preparing for their own project, they are inspired and comforted by these companies committed to creating products that have a positive impact on people and the planet.
Patagonia - Assesses the impact of their products and takes responsibility for issues at every point along lifecycle.
Everlane - Transparent, thoughtful and engaging production process
Honest By - Complete transparency in manufacturing and price as well as inspiring business philosophy.
A Peace Treaty - Employs and supports skilled artisans and small family-run village businesses in places of socio-economic strife.
TSDesigns - American Made t-shirts from field to shirt with eco-friendly dyes too
SustainU Clothing - Made in America with innovative recycled materials
Alta Gracia - As confirmed by the Workers' Rights Consortium all workers at Alta Gracia receive a Living Wage.
People Tree - 100% Fair Trade throughout the supply chain
Love Is Mighty - Vegan shoes made by talented artisans in India.
The Vortex Project - Pharrell teams up with G-Star Raw and Sea Shepherd to create products from the trash in our oceans.
Oporajeo - A worker own factory set up after the Rana Plaza Collapse to create jobs for survivors.
#
https://theor.org/frd-2014#archive-46
Considering all of this...
This experience has been one to remember. I learned so much about what happens in the world around me that I didn't know of. To start with hand ginning cotton. I knew that people had picked cotton, but never knew about it to this extent. I feel different than I did before, because I always had feelings for others. Now it is more than that, it has made me want to find out about the people picking cotton today. And I think of it now as if someone was using steroids in sports, and therefore I shall not root for them. It is the same with this, they are using people to their advantage and therefore I shall not buy clothes from the companies that don't treat their employee's right.
The Rana Plaza Collapse shows how companies don't treat their employees correctly. I feel strongly for the people in those places. I want to make a new life for them. The people in the Triangle Shirtwaist fire were locked in a room and couldn't get out, because the owner didn't want people leaving. There are so many situations showing that the priorities in the world are not best - a company might spend more money on their website than they did making the t-shirts. Also how people are born into jobs - with Meem, a boss at  nine years old- trust me, I would love to be a boss, but it is unfair. I want to help, and at the beginning of the year I thought; what can I do? I'm just a 12 year old boy. But with the experience of writing essays to the big clothing companies I have learned I can make an impact, or at least let the companies know that I care about what they are doing.
-Isaac, 6th Grade
#
https://theor.org/frd-2014#archive-51
#InsideOut on wheels!
#
https://theor.org/frd-2014#archive-50
Here is YOUR expression of gratitude!
My Nike Therma-fit was made in Indonesia. #FashRev #WhoMadeMyClothes
#
https://theor.org/frd-2014#insideout-60
Who made my L.O.G.G. shirt?#FashRev #WhoMadeMyClothes
#
https://theor.org/frd-2014#insideout-59
My Under Armour Heat Gear shirt was made in Jordan. #FashRev #WhoMadeMyClothes
#
https://theor.org/frd-2014#insideout-58
My Abercrombie tank was made in Indonesia. #FashRev #WhoMadeMyClothes
#
https://theor.org/frd-2014#insideout-57
My SustainU tee was designed my students at my school and made in the USA but who sewed it? #FashRev #WhoMadeMyClothes
#
https://theor.org/frd-2014#insideout-56
My Cherokee t-shirt was made in Indonesia. #FashRev #WhoMadeMyClothes
#
https://theor.org/frd-2014#insideout-55
Who made my American Apparel t-shirt from camp? #FashRev #WhoMadeMyClothes
#
https://theor.org/frd-2014#insideout-54
My J.Crew shirt was made in China. #FashRev #WhoMadeMyClothes
#
https://theor.org/frd-2014#insideout-53
Who made my Lands End Kids fleece?. #FashRev #WhoMadeMyClothes
#
https://theor.org/frd-2014#insideout-52
My Pink shirt is made in Ireland. I wonder where in Ireland and under what conditions. #FashRev #WhoMadeMyClothes
#
https://theor.org/frd-2014#insideout-51
#FashRev #WhoMadeMyClothes
#
https://theor.org/frd-2014#insideout-50
Who made my H&M t-shirt? #FashRev #WhoMadeMyClothes
#
https://theor.org/frd-2014#insideout-49
My Adidas hoodie was made in Thailand. #FashRev #WhoMadeMyClothes
#
https://theor.org/frd-2014#insideout-48
My North Face fleece was made in Vietnam. #FashRev #WhoMadeMyClothes
#
https://theor.org/frd-2014#insideout-47
I want to say thank you. Who made my shirt? #FashRev #WhoMadeMyClothes
#
https://theor.org/frd-2014#insideout-46
I want to say thank you. @OldNavy Who made my shirt? #FashRev #WhoMadeMyClothes
#
https://theor.org/frd-2014#insideout-45
I want to say thank you. @americanapparel Who made my sweatshirt? #FashRev #WhoMadeMyClothes
#
https://theor.org/frd-2014#insideout-44
I want to say thank you. @UnderArmour Who made my shirt? #FashRev #WhoMadeMyClothes
#
https://theor.org/frd-2014#insideout-43
I want to say thank you. @Crazy8 Who made my clothes? #FashRev #WhoMadeMyClothes
#
https://theor.org/frd-2014#insideout-42
I want to say thank you. @weatherproof32 Who made my Weatherproof Vintage sweater? #FashRev #WhoMadeMyClothes
#
https://theor.org/frd-2014#insideout-41
I want to say thank you. @adidas Who made my clothes? #FashRev #WhoMadeMyClothes
#
https://theor.org/frd-2014#insideout-40
i want to say thank you. @Nordstrom Who made my clothes? #FashRev #WhoMadeMyClothes
#
https://theor.org/frd-2014#insideout-38
I want to say thank you. @OldNavy Who made my clothes? #FashRev #WhoMadeMyClothes
#
https://theor.org/frd-2014#insideout-39
I want to say thank you. @hm Who made my clothes? #FashRev #WhoMadeMyClothes
#
https://theor.org/frd-2014#insideout-37
I want to say thank you. @TalbotsOfficial Who made my clothes? #FashRev #WhoMadeMyClothes
#
https://theor.org/frd-2014#insideout-36
#InsideOut Thank you to everyone who made my Label of Graded Goods sweater! LOGG is an H&M label - what does the name mean and how is it different from rest of H&M?
#
https://theor.org/frd-2014#insideout-34
#InsideOut Thank you to everyone who made my Studio Nicholson shirt! How do you choose which factories to work with in Europe?
#
https://theor.org/frd-2014#insideout-33
#
https://theor.org/frd-2014#insideout-32
#InsideOut Vintage BIG MAC Workers Denim Shirt, Vintage Levi's, 40s era Pendleton, and a raincoat procured from my mother who purchased it two decades ago. Everyday WEAR a Story:)
#
https://theor.org/frd-2014#insideout-31
Thank you to those who worked hard to make this shirt!
#
https://theor.org/frd-2014#insideout-30